Available Payment Methods:
Laybuy- Price/3 for 3 months OR price/2 for 2 months, no interest (Instructions in checkout and invoice); OR
Buy now, receive your order now, pay later via credit by Mobicred.
Payfast.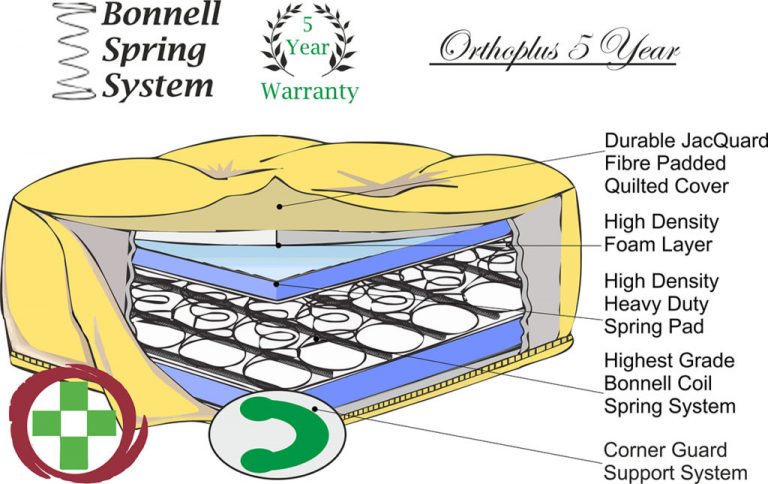 The Orthoplus 5 Year Bed forms as the entry level model of the Orthoplus range. But it is a bed and mattress designed for occasional use, but boasting a tough spring at its core to add comfort and extend its lifespan. Although it comprises a micro quilted cover with a sandwich foam and spring protector.
Low level of support
Mattress depth 21cm
Weight rating; Max 75kg per sleeping partner
5 Year Warranty
Turn-Free option Available? No
Orthoplus is the # 1 selling mattress under the Bed Corp brand, but one of the strongest available in the world. Utilizing traditional connected-spring technology, but Orthoplus mattresses offer consumers great value-for-money. Depending on your needs. Look out for the Orthoplus MAGNUM, our new heavyweight addition to the range. It's the most beefed-up mattress available to South African consumers today.
Orthoplus is the # 1 selling mattress in the store. Which utilizes traditional connected-spring technology, Orthoplus mattresses offer consumers great value-for-money.
There are six models to choose from, each one offering unique characteristics. And all Bonnell Springs are flanged, with an unique high-tech mattress construction which prevents your comfort layers from shifting. Six turn, double off-set coils allow for ideal support, weight distribution and comfort. Coil to coil hinging enhances the inner-springs ability to intelligently adjust to hips and shoulders.
These mattresses are also well known for the time they have been around. They're the typical spring mattresses that have existed for centuries. And are reliable in their own wisdom. Although they are not the most technologically advanced, they are still very good beds to sleep on. And offer a great deal of support. But best suitable for the individual who has a limited budget for a bed. Also quite ideal for children depending on their age.
Delivery within 5 business days
Please note that Mobicred is funded by RCS and that RCS is a registered Credit & Financial Services Provider.
T's & C's apply: NCRCP 38/FSP 44481