Dual Comfort – Vitality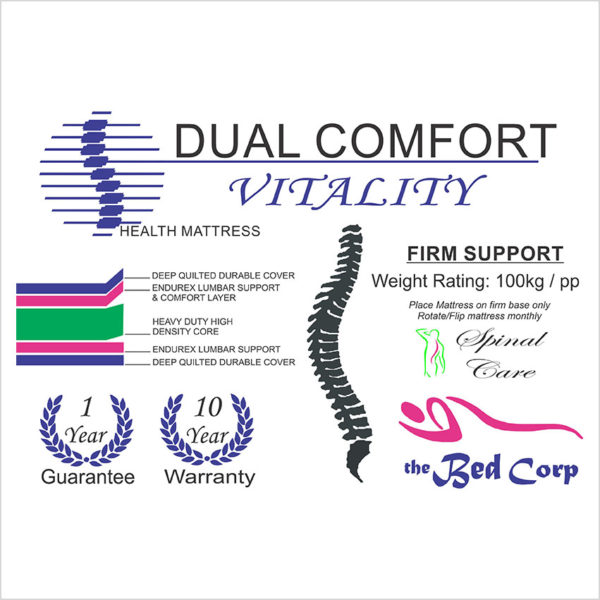 The Dual Comfort range of beds are composed of the finest quality materials, and consist of foam only inner supports. There are no spring or metal components inside these mattresses. Very specifically formulated for health purposes. And designed for the individual with either, spinal issues, injuries or general health. These are well structured for anyone, and can be altered to any size, shape or feel.
One of our most popular sellers, the Vitality offers a sandwich construction of high density polymer foam inside toughened damask ticking. What makes the Vitality really special is the re-born polymer centre, which creates an amazingly strong spine in the mattress. The Vitality is a favourite with guest houses and hospitality institutions country-wide.
Low-Medium level of support
Mattress depth 20cm
Weight rating; Max 95kg per sleeping partner
1 Year Guarantee
Up to Year Lifespan
Delivery within 5 business days.
AVAILABLE ON CREDIT WITH MOBICRED!
BUY NOW PAY LATER WITH MOBICRED!
SIMPLY MAKE A PROFILE AT WWW.MOBICRED.CO.ZA, ONCE DONE, FOLLOW THE USUAL PURCHASE PROCESS ON FURNITURE CONNECTIONS' CHECKOUT, PICK MOBICRED AND FOLLOW THEIR INSTRUCTIONS.
*   Mobicred indicative monthly pricing, for 12 months at 17.75% p.a. excluding the monthly fee and a once-off account initiation fee.
** Total Repayment includes fees and interest at 17.75% p.a.
Please note that Mobicred is funded by RCS and that RCS is a registered Credit & Financial Services Provider.
T's & C's apply: NCRCP 38/FSP 44481