Exclusive Collection
The Exclusive Collection is a well designed, well structured mattress is a class of its own. Composed of the latest technology, and scientifically manufactured materials. These mattresses are made with the best of materials, from the pocket spring core, latex overlays, memory foam surfaces and finally the woolen / Bamboo knit material. Mattresses designed to only last a very long time, but provide the same comfort throughout its lifespan. The Exclusive collection mattresses will not lose shape, or change in feel for up to 30 Years. This means that you could possibly use them for a lot longer, however, due to changes in your body, and your own needs, it's not advisable to use for more than 15 Years.
Exclusive Collection – Connoisseur
The Connoisseur is a firmer option of the 2 available in its range. Designed as the best possible mattresses one could sleep on. Offering a luxury like no other, and comfort that cannot be explained, but only experienced. Your sleep is important to us, and through these beds, we've found a way to create the perfect sleeping condition.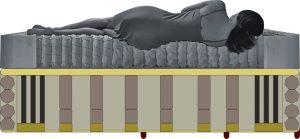 Glorious comfort and pure luxury are represented in the Connoisseur. Pure Natural Quilt to absorb and distribute body moisture combined with a Memory Foam Euro-top on the tough-as-nails 1000 series spring system make the Connoisseur, specifically designed for the connoisseur. Through the years the Connoisseur has continued to define the standards for ultimate luxury in the sleep industry. Consisting of all the benefits as you?d find in any Health or Luxury specific bed, the Connoisseur is an amazing upgrade to just that.
Luxury at its finest
Medium level of support
Mattress depth 33cm
Weight rating; Max 100kg per sleeping partner
3 Year Guarantee
30 Year Warranty
Turn-Free Only
Delivery within 5 days.
AVAILABLE ON CREDIT WITH MOBICRED!
BUY NOW PAY LATER WITH MOBICRED!
SIMPLY MAKE A PROFILE AT WWW.MOBICRED.CO.ZA, ONCE DONE, FOLLOW THE USUAL PURCHASE PROCESS ON FURNITURE CONNECTIONS' CHECKOUT, PICK MOBICRED AND FOLLOW THEIR INSTRUCTIONS.
*   Mobicred indicative monthly pricing, for 12 months at 17.75% p.a. excluding the monthly fee and a once-off account initiation fee.
** Total Repayment includes fees and interest at 17.75% p.a.
Please note that Mobicred is funded by RCS and that RCS is a registered Credit & Financial Services Provider.
T's & C's apply: NCRCP 38/FSP 44481