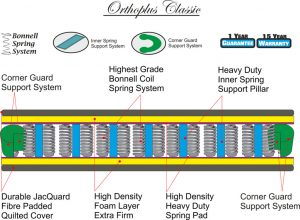 Orthoplus Classic
As the name suggests, the Classic is the perfect all-round bed, that is suitable for almost anyone, and offers the same or similar level of comfort and support as you would have experienced with your old bed. The technical structure of this bed is very much like the golden oldies that were designed for durability, support and longevity. It doesn't host many of the new technological advancements we see today, but rather, it offers just the perfect solution should you find yourself working around a tight budget.
This deep quilted mattress construction offers a superior level of comfort. It builds on the De-Luxe model with additional fillings of higher density foam, and greater mattress depth for improved levels of comfort and support.
Medium level of support
Mattress depth 24cm
Weight rating; Max 100 kg per sleeping partner
1 Year Guarantee
Up to 15 Year Lifespan
Delivery within 5 business days.
AVAILABLE ON CREDIT WITH MOBICRED!
BUY NOW PAY LATER WITH MOBICRED!
SIMPLY MAKE A PROFILE AT WWW.MOBICRED.CO.ZA, ONCE DONE, FOLLOW THE USUAL PURCHASE PROCESS ON FURNITURE CONNECTIONS' CHECKOUT, PICK MOBICRED AND FOLLOW THEIR INSTRUCTIONS.
*   Mobicred indicative monthly pricing, for 12 months at 17.75% p.a. excluding the monthly fee and a once-off account initiation fee.
** Total Repayment includes fees and interest at 17.75% p.a.
Please note that Mobicred is funded by RCS and that RCS is a registered Credit & Financial Services Provider.
T's & C's apply: NCRCP 38/FSP 44481